This is not a total loss!
Did you know that you can save up to 78% on average by repairing?
In our NUBIUS production we give new dynamic  to used tools. If a screw-in milling cutter is still missing in your production range, take a look at our online store! If you don't find what you are looking for there either, we have a particularly service for you: we can also support you with individual custom-made products on request.
NUBIUS establishes its own standards in repair technology and reconditioning, even for the most severely damaged tools and precision parts. We solve manufacturing problems when damage occurs due to collision, tool breakage or in cases of worn insert tools, precision parts and special machine parts.

When tools malfunction due to breakage,  collision, NUIBUIS is there to help! After all, downtimes are the costly!
We repair and grind precision tools,  special tools or XXL-tools, but also measuring equipment.
Learn more about our services by clicking on the list below:
NUBIUS identifies new possibilities for savings in a wide range of metalworking industries.
Repairs of severe damage are often considered impossible – NUBIUS can show that many things are possible after all.
Savings effects are available in all companies. You just have to be willing to recognize and use them to achieve the benefits.
There is savings potential in every company!
The potential for savings is possible with consequent repairs and permanent maintenance.
In the event of a breakdown, prompt intervention is possible because in these situations a repair can be performed as soon as possible.
This is particularly for special and stepped tools, which have long delivery times when manufactured but in the case of damage can be repaired and send it to you with a our urgent delivery service in 1-3 days.
Reparation of cutting tools with metal carbide inserts
Our customers come from all areas of the metalworking industry: automotive industry and its suppliers, engine manufacturing companies, mechanical engineering, plant engineering, precision engineering, compressor manufacturers, metal construction, tool manufacturing, mold making industry, foundries, marine industry, automation technology, gear manufacturing, turning workshops, drive technology, machine tool sales companies, grinding shops, mold and die making, fittings construction, paper machine industry, medical technology, hydraulic aggregate construction, gearbox construction and many others …
NUBIUS can repair and rectify the following types of damages:
Repair of measuring devices
NUBIUS also provides repairs of defective mechanical parts of measuring devices.
We repair a wide range of damages. As a result, the measuring devices become functional again and can be used in production again.
We repair measuring devices with the following damages:
The NUBIUS grinding service turns blunt tool edges into sharp-edged tools again!
Worn tools produce scratches, poor ,rough workpiece surface quality. Our sharpening service will help you.
Tools that have become blunt and unusable are re-sharpened and re-coated. You will be left with fully functional tools.
Grinding precision tools offers several advantages:
In unserem Reparaturkatalog stellen wir Ihnen unsere verschiedenen Leistungen rund um das Thema Werkzeugreparatur, die Herstellung von Sonderwerkzeugen sowie unseren Schleifdienst, vor.
Sie wollen mehr erfahren? Dann 👉 klicken Sie hier 👈 und werfen Sie einen Blick auf unsere anderen Kataloge und Broschüren.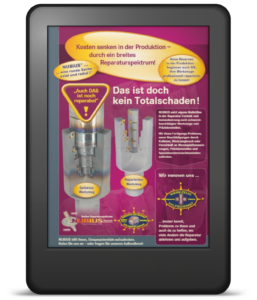 Kostenlose Abholung Ihrer Werkzeuge!
Wir bieten Ihnen eine kostenlose Abholung Ihrer kaputten Werkzeuge an! Mit uns sparen Sie nicht nur bei der Reparatur, sondern auch beim Versand.